Posted By: admin | Categories: News, Travel
The World is a book, and those who do not travel read only a page.
– Saint Augustine
We've talked a lot about tradition the last two years as the Lindsborg Swedish Folk Dancers prepared for and celebrated its 50th anniversary. No tradition of this group is more important than the summer trip! Hundreds of Smoky Valley youth have relished the opportunity to learn and grow through interaction with other folk dancers in venues across the United States. Woven into the folk dancing experiences are visits to museums and other world-class attractions, and most importantly a taste of the culture, food, and environment of communities outside our Smoky Valley.
The tradition continues this summer with a cross county trek that will culminate in the city than never sleeps – New York. The first day of our trip takes us to Saint Louis and the gateway to the west. (However, in our case it's a gateway to the east.) The next day takes us to Newark, Ohio for a performance at the Black Box Theatre on the Newark campus of The Ohio State University. The performance is free and open to the public, 8:00 p.m. Monday, June 23.
The three-day stay in New York will include an evening of folk dancing and music with ScandiaNY and the Folk Dancers of New York on Wednesday, June 25, 7:00 p.m. (Town and Village Synagogue, 334 E 14th St, New York City) and a private performance in Brooklyn on Thursday, June 26. While in New York the group will take in a Broadway show, the 9/11 Memorial Museum, and Ellis Island.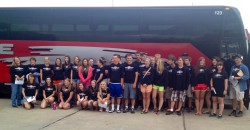 Share This Post: