Posted By: admin | Categories: Events
We're heading into the home stretch of preparations for Svensk Hyllningsfest 2013 and celebration of 50 years of the Lindsborg Swedish Folk Dancers. We are excited to see how many alumni will take part in the planned activities!
Smorgasbord At last check there are tickets remaining for the 3rd setting of the Svensk Hyllninsfest Smorgasbord at 8:00 p.m. on Friday, October 4. This setting was set aside for dancer alumni but has been opened to the general public, so act now to get your tickets!  Call the CVB at 888-227-2227 or visit the Svensk Hyllningsfest website http://www.svenskhyllningsfest.org/swedish-dancer-reunion.html.
Grand Parade On Saturday morning, dancer alumni and their families are invited to join us on a special 50th anniversary float. Swedish costumes are optional!  The float will have hay bales to sit on or you may walk along beside it.  The float will be staged at the corner of Main and Normal Drive, plan to arrive there around 9:30.  The parade begins at 10:00.
Alumni Gathering  On Saturday evening you are invited to a gathering at Bethany Lutheran Church from 5:00 – 8:00 p.m. There may be dancing, fiddling, or simply much visiting with fellow alums.  There will be 50 years of photos and meorabilia on display.  light snacks will be provided.  There is no charge and no RSVP required.  Dancer alumni and families – spouses, children, grandchildren, parents – are invited to participate.
Svensk Hyllningsfest 1969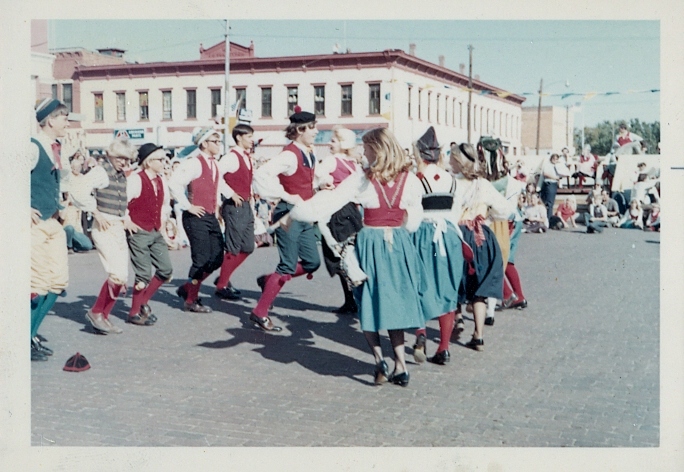 Share This Post: